10 Female Celebrities Who Love Horses
Female celebrities are renowned for being beautiful, booked and busy and you wouldn't think they would have much time to fit in horse riding. These females, however, don't let their work get in the way of their passion for horses and some of them even decide to to incorporate horses into their work! We've compiled a list of ten female celebrities that you probably didn't know were horse riding enthusiasts. 
1. MADONNA - The legendary Queen of Pop is a huge lover of horses and has been known to ride horses for years. Madge's love of horses has also landed her in a couple of tricky situations. The most famous incident was when she was gifted a beautiful horse for her 47th birthday but was thrown off within a minute of getting on and broke 8 bones, not getting on another horse for 6 months afterward. More recently, she was embroiled in a row with Portuguese authorities over not being allowed to bring a horse into a palace for a music video. Still, her love for these majestic creatures is admirable, and she has shown her love notably during her Confessions Tour (2006), and in her 2019 music for "Medellín" where she is found riding through the wilderness to her wedding to her collaborator on the track Maluma. I hope her horse is quick… 

 
2.  VICTORIA BECKHAM - Everyones favourite Spice Girl (well, at least ours) has a love for all things equestrian, and has passed her love for stallions onto her daughter Harper, her sons Cruz, Brooklyn, and Romeo, and even her hubby David. The Beckhams have been spotted out and about horse riding in LA as well as Italy in upmarket equestrian centres. The singer-turned-fashion-designer often shares adorable snaps documenting her family's love of horse riding on her Instagram stories, giving us an insight into one of the most famous families in the world and showing that Posh Spice really does have a softer side.
3. JULIA ROBERTS - "I'm just a girl, standing in front of a horse…" I think the line goes right? Anyhow, A-Lister Julia Roberts is a well known for her passion for horses and even owns her own ranch in Taos, New Mexico! This isn't a surprise considering she has been barrel racing at rodeos from a young age which is pretty badass. She also filmed an amazing documentary you should definitely watch if you're a horse lover where she travels to Mongolia (where the only true wild horses left in the world are found) and documents how the nomadic people, who live on the plains of this Asian country, depend on these creatures for milk, transportation and for racing, which is embedded in this nation's culture and history. She can also be seen galloping away in a full on wedding dress in the film Runaway Bride that she starred in with Richard Gere. Somebody grab the popcorn!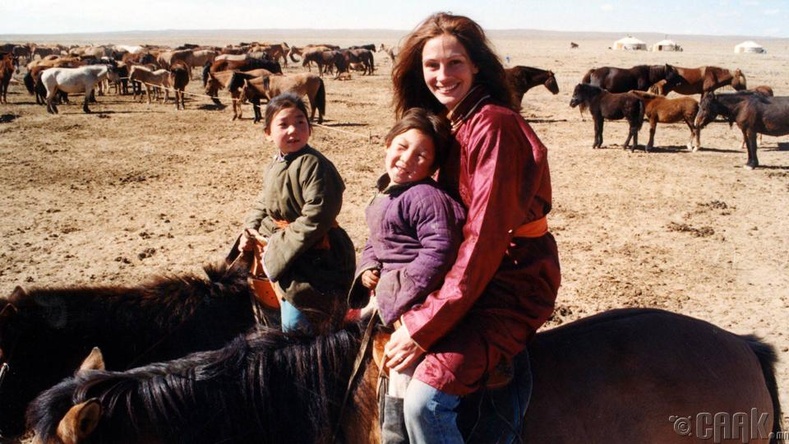 4. KIM KARDASHIAN - Kim Kardashian is not someone you would expect to have a passion for horse riding, but the reality star has really grown a love for these creatures, passing on this love along to her kids North and Chicago. 

Her husband Kanye West actually bought a 5,000 acre ranch in Wyoming recently where the family like to ride their horses and get some practice in. Kim has also shown her love for horses in her business ventures where she featured on horseback atop a beautiful white horse in an ad for her beauty line KKW Beauty.
.
5. LADY GAGA - When she's not found on the top of the charts, the American superstar has been known to be found on top of a horse! If she's not dressed up to the nines in avant-garde high fashion outfits and towering heels, Lady Gaga prefers to throw on a pair of leggings and trainers and take a ride on her beloved horse Arabella, whom she was gifted as a Christmas present from her record label. In an interview with V Magazine, Gaga said that having a horse changed her life and that when she was gifted Arabella, she knew nothing about horses but decided to give it a go and "grabbed her by the mane and rode her bareback." Gaga was often seen riding Arabella around Malibu and decided in 2016 to get her a boyfriend which she named Trigger, leading to them having two foals together named Gracie and Sandy. Unfortunately, Arabella died earlier this year with Gaga leaving the Critics Choice Awards early to rush to be by her side. I'm not crying, you're crying!
6. GIGI HADID / BELLA HADID - Who said models were a one trick pony? The Hadid sisters are living proof that models can do more than just take a pretty picture. Gigi and Bella actually grew up on a ranch where they lived for 10 years and both used to compete show jumping as teenagers. Gigi shared a cute throwback video on Instagram showing off her horse riding ability on Calypso's Trendy Lady and sharing that she was actually on the winning West Coast Child/Am Jumper Championship team! Though she stopped competing to pursue modelling full time, she still rides today.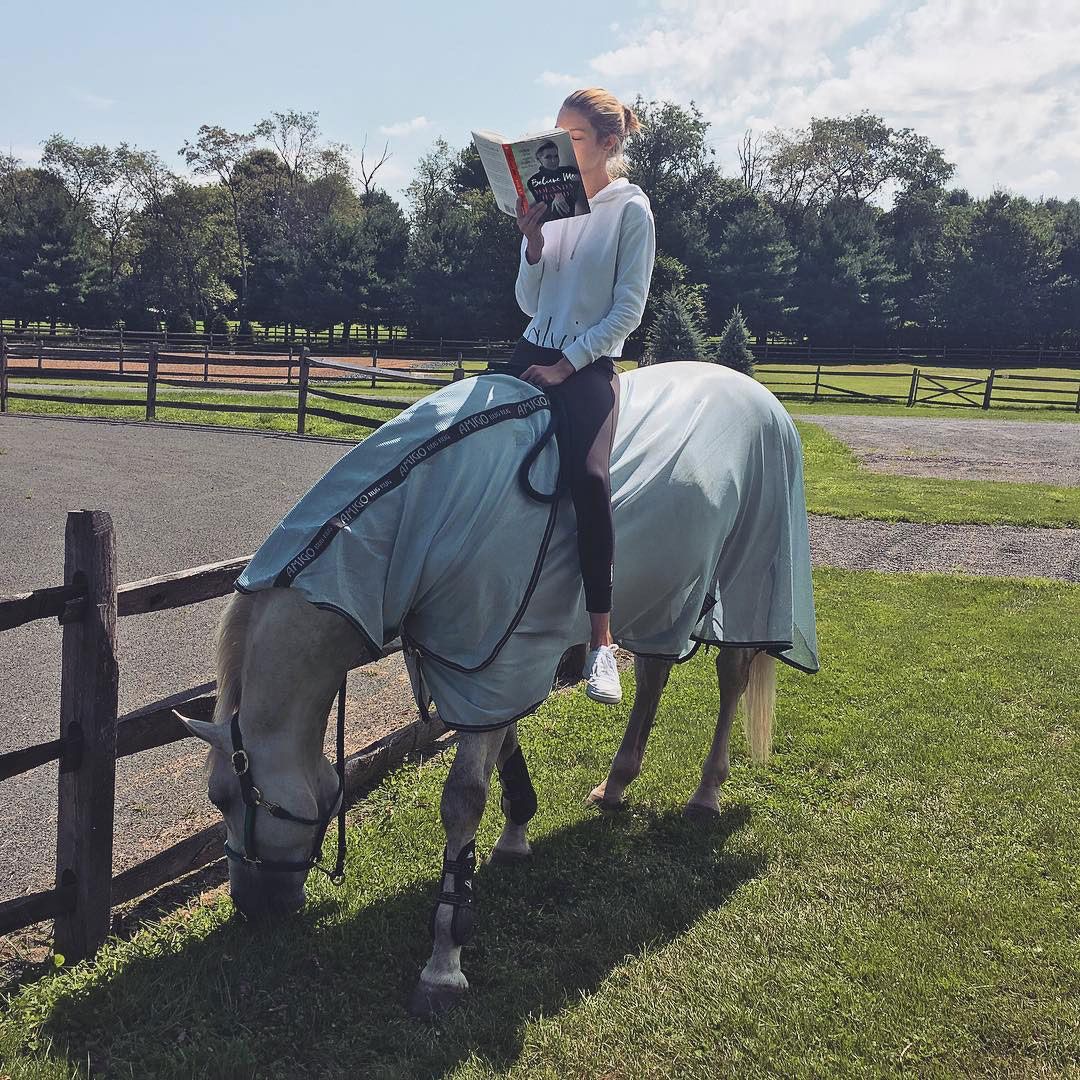 Her equally famous supermodel sister, Bella Hadid, was actually a champion equestrian during her teens with her first love being horses. So much so, she dreamed of competing in the Olympics and was on track to get there until she was diagnose with Lyme Disease. Her mother, Yolanda, wrote in one of her blogs how devastated Bella was at not being able to pursue a professional career in horse riding due to the severity of her symptoms. Despite now pursuing modelling alongside her sister, Bella still horse rides to this day with her beloved horse Blue. 
7.
NICOLE KIDMAN
- One of Australia's finest exports, the frustratingly beautiful Nicole Kidman is also a horse enthusiast and developed her love for horses whilst rehearsing and filming the 2008 romance epic
Australia,
starring opposite Hugh Jackman. 
In preparation for the film Nicole toured her homeland on horseback, learned to ride like a ranch hand, and also did all of her own horse stunt work for the movie including riding amongst a stampede of 1,500 wild horses! Her work on this particular film left such an impression on the actress that she and her husband, country music star Keith Urban, bought a rural Australian ranch. They now keep their own horses and spend as much time here as possible when they're visiting down under.
8. QUEEN ELIZABETH II - The reigning Queen Elizabeth is one of the biggest horse fanatics the UK has ever known and has been fascinated by horses from a very young age. From her early beginnings, she took an interest in her father's (George V) horses and supposedly kept newspaper clippings about his horse Rising Light in a little scrapbook. From here she became an expert in keeping and breeding horses for racing, showing, polo and carriage driving, supposedly keeping and training between 25 to 30 horses at any time for horse racing alone! Her interest and expertise in stallions has caught the eyes of the rich and powerful who have gifted her many horses throughout her reign. Despite being 93 years of age, Queen Liz is a fine example of being young at heart, still being spotted to this day riding her horses around Windsor Castle and Balmoral Castle in Scotland. Yaaaaas Queen!
9. SHANIA TWAIN - Despite being a country music star, you may be surprised to find out that Shania didn't actually ride her first horse until the age of 12 when she had a go on one of her friend's horses. Shania wrote about her love for horses in her autobiography, From This Moment on, where she declared her love for them and stated "I am in awe of them" and at one time owned a ranch in New Zealand with her ex-husband. More recently, she showed the world how much she loves horses when she announced her comeback residency in Las Vegas where she promoted the show by riding through the streets on horseback with a parade of 40 horses. Not only that, but a major theme in her Vegas residency is horses, featuring two gorgeous stallions in the show. She was adamant that the horses not do tricks as typically expected, but to just be seen in a natural state and admired for their beauty. We would definitely recommend YouTube-ing Shania Twain singing 'You're Still The One' to a stunning white steed on stage - it's amazing!
10. GISELE BÜNDCHEN - This towering, gorgeous glamazon has stomped runways all over the world, becoming the highest paid supermodel for 15 years in a row and has been credited with the introduction of the 'horse walk'; a style of runway where a model lifts their knees high and kick their feet to walk. Maybe this iconic walk was inspired by her love of horses? The Brazilian has been riding horses since the age of 8 where she used to ride on her aunt's farm, and still rides regularly to this day. Her admiration for horses has rubbed off on her husband, Tom Brady, and their three kids as they go riding all together as a family at least once a year, often sharing adorable snaps on Instagram riding in exotic places like the Amazon or Costa Rica!
So were you surprised by anyone on this list?  Is there anyone we missed out that should've made our list? Let us know in the comments. Please feel free to share crediting Black Heart Equestrian 🖤